The iconic backdrop of Srinagar's Lal Chowk's Clock Tower played home to history in the making. The first-ever live televised conclave held at this location, 'The Lal Chowk Manch,' was broadcast on India News and NewsX, as well as 9 additional regional stations managed by the iTV Network.
The Lal Chowk Manch began with a homage to 'Kashmiriyat,' and momentum for a 'Naya Kashmir' was rising. The summit brought together a who's who of voices from New Delhi via remote link, as well as local political and commercial leaders and entrepreneurs, all stakeholders in the state's destiny. Union Minister Jitendra Singh, DGP J&K Dilbag Singh, former DGP J&K SP Vaid, and former Army Chief Gen JJ Singh also spoke from the stage during the summit.
The colloquium also marked the launch of India News' flagship 'Sabse Pehle Desh' ('India First') devotion. Discussions centered on 'Sabse Pehle Desh,' and topics included development, infrastructure, leaders for future, politics, business, entrepreneurship, and start-ups. The entire arena was decked with Indian flags in honor of the 'Har Ghar Tiranga' campaign.
This was the first time in independent India's history that a live summit-level transmission was held from Srinagar's Lal Chowk. The Indian Army and the J&K Police were praised for creating the security environment that allowed this to happen.
During his conversation, Union Minister Jitendra Singh stated, "Har Ghar Tiranga is an object of national pride for all Indians. It is a method for us to connect with our ancestors. The flag is the property of all Indians, regardless of religion or political allegiance."
Speaking at the conference, former Army Chief Gen JJ Singh stated, "China would continue its efforts to seize 'claimed' regions. India must abandon the assumption that if it takes a moderate stance toward the Chinese, the latter will agree to limit their actions. The 1954 Hindi-Chini bhai-bhai campaign was India's worst blunder."
Dilbag Singh, DGP of J&K, stated during the colloquium. "The future of Kashmir's young is changing right now." I salute the Kashmiri youth on their efforts to better themselves and Jammu and Kashmir as a whole."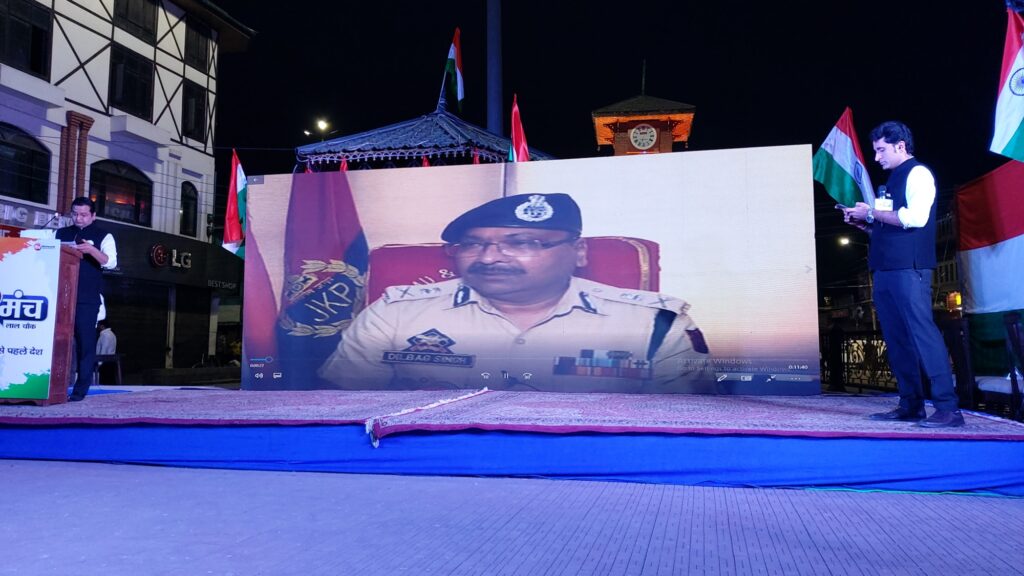 Speaking at the summit, former J&K DGP SP Vaid stated, "The fact that you're able to undertake a live transmission is an example of new optimism for Kashmir." What you see today is a far cry from what Kashmir used to be. Tourism is thriving, seven medical institutions have been built, AIIMS, IITs, and IIMs are all coming to Kashmir, there is about 50 thousand crore worth of investment, a UAE team has come, and all of this is giving Kashmir new hope. Slowly, the following generation will be able to capitalize on these prospects and choose a new path in life."
Tarun Chugh, BJP General Secretary and J&K In-charge, stated at the conclave, "There was a time when stones were thrown at Lal Chowk and ISIS flags were placed there, but now we see a different J&K. Terrorism capital has become tourist capital."
Parliamentarians and citizens from throughout the country have recognized and supported the convocation and homage to the 'Har Ghar Tiranga' movement. Former Tripura Governor Tathagata Roy stated, "I'd like to thank iTV Network on this occasion at Lal Chowk. Anil Desai, a Shiv Sena Rajya Sabha MP, stated, "iTV Network's endeavor from Lal Chowk is a welcome and laudable one.' "I thank iTV Network for participating in the Amrit Mahotsav," BJP MP Rakesh Sinha said. Jagdambika Pal, a BJP MP, stated, "On the occasion of India's 75th anniversary, Prime Minister Modi launched Har Ghar Tiranga. Lal Chowk's initiative is being carried forward by iTV Network. This is a positive step."
The show will be broadcast on NewsX and India News national channels, as well as livestreamed on key OTT platforms such as Dailyhunt, Zee5, MX Player, ShemarooMe, Watcho, Mzaalo, Jio TV, Tata Play, and PayTM.