12 March, 2023 | Adarsh Tripathi
PM Modi took a veiled jab at Congress leader Rahul Gandhi over his recent comments at the Cambridge University, in Karnataka.
Karnataka is headed to the polling booths in April, and the politics in the southern state are heating up faster than ever. Where the Congress Party is running a loud campaign against the ruling Bharatiya Janata Party government, the BJP have unleashed the big guns for their campaigning program with multiple Union Ministers along with Home Minister Amit Shah visiting the state over the last couple of months for high-volume campaigns with rallies and roadshows. Prime Minister Narendra Modi also seems to have taken cognizance of the stiff challenge his 'Vijay Rath' faces in Karnataka.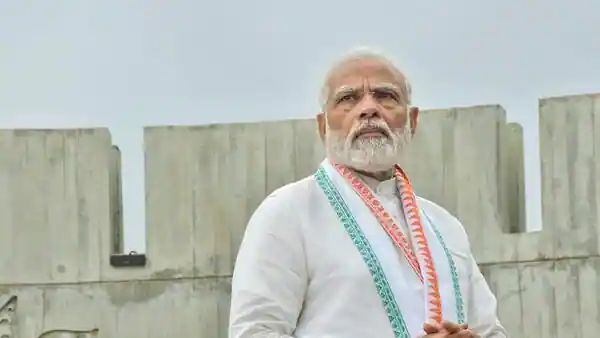 Addressing a public rally in Hubbali-Dharwad, the Prime Minister took a veiled jab at the Congress Party leader Rahul Gandhi, referencing his recent comments at the Cambridge University which have become a flashpoint between the BJP and the Congress in their verbal clashes all across the country.
"I was fortunate enough to be invited to London to unveil the statute of Bhagwan Basaveshwara. But it is unfortunate that from the soil of London, questions are being raised on Indian democracy," said the Prime Minister at an event where he laid foundation stones for many development projects in the area.
"There is no force that can weaken Indian democracy. But despite that, there are constant attempts by some people to attack Indian democracy."

PM Modi at Hubbali, Karnataka.
Sounding the poll bugle in Karnataka, Prime Minister Modi reminded the people that India is not only the world's largest democracy, it is also the mother of democracy. He also said that the entire world studies the democratic system and doctrines laid down by Guru Basaveshwara, the 12th Century Lingayat statesman who established the Anubhava Mantapa. "Today I am at the land of Bhagwan Basaveshwara and I feel fortunate. One of his remarkable contributions was the setting up of the Anubhava Mantapa. The entire world studies this democratic system. And there are many such other things for which we can say that India is not only the largest democracy but the mother of democracy," said the Prime Minister.