Change is in the air. Crypto and non-fungible tokens (NFT) have been in a pretty brutal bear market for almost exactly a year now, which many, myself included, had projected to last for years.
But now, there are signs of life springing up all around, being driven by Bitcoin NFTs, and recent news of China opening the door for citizens to engage the blockchain again. The bear market may be over sooner than we had thought, so let's get into what's making me think that NFTs might just be back. 
Noteworthy Happenings
China is coming into NFTs and crypto, and Russia will use crypto to settle payments across borders. These two major announcements are excitement back to the NFT and crypto markets and lead many to believe that these alone can turn the market around.
Collectors are eying high-priced NFTs ahead of a potential incoming pump from Chinese investors looking to snatch NFT grails like CryptoPunks, BAYC and Azuki. An x-factor that not enough people are talking about yet is, what if they decided to dive into the mostly unexplored world of Bitcoin NFTs where opportunities may be even greater than the already expensive Ethereum ecosystem?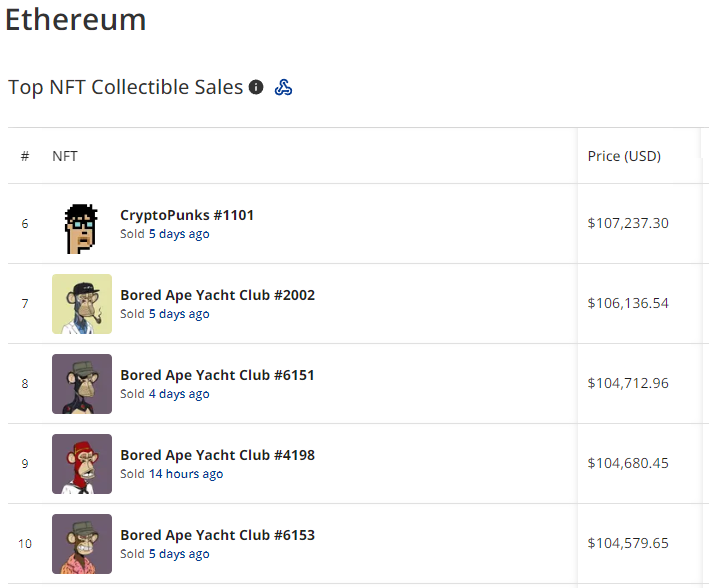 Bitcoin NFTs are really starting to cook, and just yesterday the 10 millionth Ordinal was inscribed. This massive milestone many thought improbable just a few months ago, but believers in Bitcoin NFTs never had a doubt. At this point, no one can deny that Bitcoin's NFTs are here to stay, but the question of 'Will Bitcoin NFTs flip Ethereum NFTs?' is another story. I think they will.
A new token standard was created on Bitcoin yesterday called BRC-721E. This will let traders bridge their Ethereum NFT over to Bitcoin by "burning" the Ethereum NFT and re-creating it on Bitcoin. Now we'll get to see traders' convictions on the Bitcoin ecosystem play out in real time. 
A new meta is emerging in NFTs which is to drop a new cryptocurrency (an ERC-20 or BRC-20 token) and then build an ecosystem around it, likely with NFTs. $OXBT is the new hottest BRC-20 collection on Bitcoin, and there are teases of upcoming utility for this token. Fun fact, $OXBT is now held by more wallets than any other individual digital asset on the Bitcoin blockchain other than BTC itself and its smaller denomination, Satoshis. 
This hot new meta recently took off with new meme coins like $PEPE, $TURBO, $BEN, and $PSYOP looking for ways to drive more users to the token, and the concept now seems destined to shape the NFT scene for the foreseeable future.  
Gaming on the cusp of taking over Web3
Gaming is on the cusp of taking over Web3. Epic Games, the creator of Fortnite, now has over 20 blockchain games listed on their store with some like Defimons now entering a closed beta. 
If Mythos Chain's DMarket, and ImmutableX's Gods Unchained are any indication of what's to come (they are), we're in for a meteoric rise in NFT adoption. Just look at how the buyers/sellers and transactions compare to a typical PFP project. 
 
Sales from these two projects have propelled them into the top five for the past seven days, foreshadowing what's to come as blockchain games begin to enter the mainstream.
Peep the charts
I don't know about you, but I'm fascinated to see who Bitcoin's growth impacts more, Ethereum and its layer 2s, or Solana? Take notice of which chains aren't in the top 10 NFT Collection Rankings by Sales Volume for the past 7 days, and you'll see who it may be.
Nakamigos have had a sudden surge, as have Jack Butchers' art project Openens, pushing both ahead of Milady Maker and into the Top 10. Milady Maker continues to hang around with the big dogs, now with extra action that revolves around the new BRC-721E bridge that originated in the Milady project.
Bitcoin continues to fall from its previous seven-day highs, but other ecosystems like Solana and Ethereum are on the upswing. I expect this tug-of-war to continue until new users come into the space, and bring liquidity to be able to push both up at the same time. 
(Disclosure: The author of this commentary holds $OXBT)