The honeymoon phase of non-fungible tokens (NFTs) is in the rearview mirror, firmly settling the debate, "Will NFTs make it?" Today, we ponder a subtler question: "Which sector of blockchain assets will emerge as the golden goose of Web3?" 
While profile pictures (PFPs), gaming and metaverse assets, collectibles, and art each have their moments of prominence, a landmark sale this month suggests that art might be the standout. It's not merely a fleeting spotlight, it's a significant bookmark in a new chapter of art history.
On June 15th, the world saw one honkin' big generative art NFT sale, and big might be an understatement. At the strike of the gavel at Sotheby's Grails: Part II auction, Dmitri Cherniak's Ringers #879, also known as "The Goose" sold for US$5.4 million (US$6.2 million with fees included), the second highest-priced price ever achieved for generative art. The record is held by another NFT from The Ringers collection, #109, which sold for US$7.1 million in 2021.
#AuctionUpdate: One of the most important works of post-blockchain generative art,@dmitricherniak's Ringers #879 (The Goose) has just sold for $6.2 million, making it the 2nd highest generative art sale of all time. #SothebysGRAILS https://t.co/dKyqxGbAIZ pic.twitter.com/zkxoP21M9e

— Sotheby's Metaverse (@Sothebysverse) June 15, 2023
The Ringers, a thousand-piece NFT collection on Art Blocks, gave birth to "The Goose" in 2021. Even then, this piece stood out as a shining exemplar of the magic generative artists can create with code when given bumpers but not a strict path. Dmitri Cherniak's algorithm crafted not only the intended pegs with randomized counts, wrap orientation, and colors, but also a perfect goose. This remarkable result, which seemed to have a one-in-a-million chance of happening, became the collection's face, and potentially the face of generative art.  One could say it's almost poetic, given NFT traders' obsession with trading NFTs featuring animals apes, monkeys, and penguins. 
The identity of "The Goose" purchaser is noteworthy. Formerly owned by defunct crypto hedge fund Three Arrows Capital, 'The Goose' is now in the hands of Punk6529's 6529 Capital. This shift demonstrates that NFT art is attracting major investments from large funds, including traditional investors.
Punk6529 is not just a mega investor and collector. This anonymous CryptoPunk is a fervent believer in NFTs, who also invests significant time into building Web3. Their fund's pricey NFT grails like Rare Pepes, CryptoPunks, Bored Apes, AI Generate Nude Portraits, Zancans, XCOPYs, and Fidenzas illustrate a deep understanding of the NFT art market, while active involvement in projects like the open metaverse project, OM, and the meme art collection, The Memes, reflects a profound comprehension of NFT culture. The combination of these aspects reveals a clear vision and conviction in the historic value that these art pieces may hold in the future. 
In the traditional art world, iconic paintings change hands for tens and sometimes hundreds of millions of dollars. Whether it's Leonardo Da Vinci's Salvator Mundi that sold for US$450 million in 2017 or the more recent US$198 million sale of Rembrandt's The Standard Bearer, there's nearly no limit to what serious art collectors are willing to spend on historic art. Given this context, Punk6529's conviction play may seem bold right now, but there's a chance that one day we'll look back at the sale of "The Goose" as the historic event that it truly may be, leaving some to question why they didn't take their shot when "The Goose" was only US$5.4 million.
It may still be too soon to call any NFT artwork historic, although we seem to be firmly on that path. In fact, market trends within the NFT art space over the past few years underscore this progression. Two years ago, Mike Winklemann's (Beeple) iconic "Everydays: The First 5000 Days" sold at Christie's for US$69 million and since then multiple other high-priced art sales have helped legitimize art on the blockchain. Julian Assange and Pak's Clock sold for a whopping US$52.7 million, Beeple's Human One for US$28.9 million, XCOPY's Right-click and Save as Guy for US$7 million, Beeple's Crossroad for US$6.6 million, and the list goes on.
The success of Sotheby's Grails: Part I and II auctions this year further suggests that a new art renaissance is blooming on the blockchain, together bringing in over US$13 million in sales across 44 pieces of generative art. But while generative art was pushed back into the spotlight with Ringers #879's massive sale, you just need to zoom out to see the full picture of how big generative art on the blockchain had already grown. 
Art Blocks, the world's first generative art NFT platform, has registered over US$1.4 billion in secondary sales in just a few years, which ranks it fifth in CryptoSlam's all-time NFT collection chart by sales volume. Art is now in the conversation with household NFT names like Bored Apes and CryptoPunks, and my belief is this is just a taste of what's to come.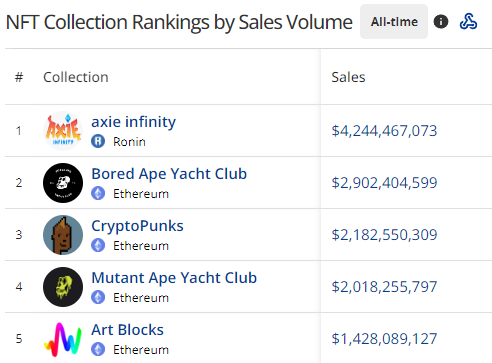 Punk6529's big bet on "The Goose" reflects confidence in not only Dmitri Cherniak's The Ringers collection, but also in the future of NFT art as a whole. 
ChatGPT and other easy-to-access AI tools all but ensure generative art will keep growing, bringing in new creatives by allowing anyone to learn basic code in a way not possible before. And marketplaces like Art Blocks, FxHash, Verse, Christie's 3.0, and Sotheby's Metaverse give this new generation of artists a place to earn a living from their craft. 
Generative art itself, once known as a genre where patterns, palettes, and shapes dance around a digital canvas, has now matured into exquisite compositions that can easily be mistaken for traditional paintings. This impressive evolution parallels the growth of the NFT market itself, shedding light on why entities like Punk6529 are investing, and why auction houses like Christie's and Sotheby's are eagerly introducing generative NFT art into their offerings.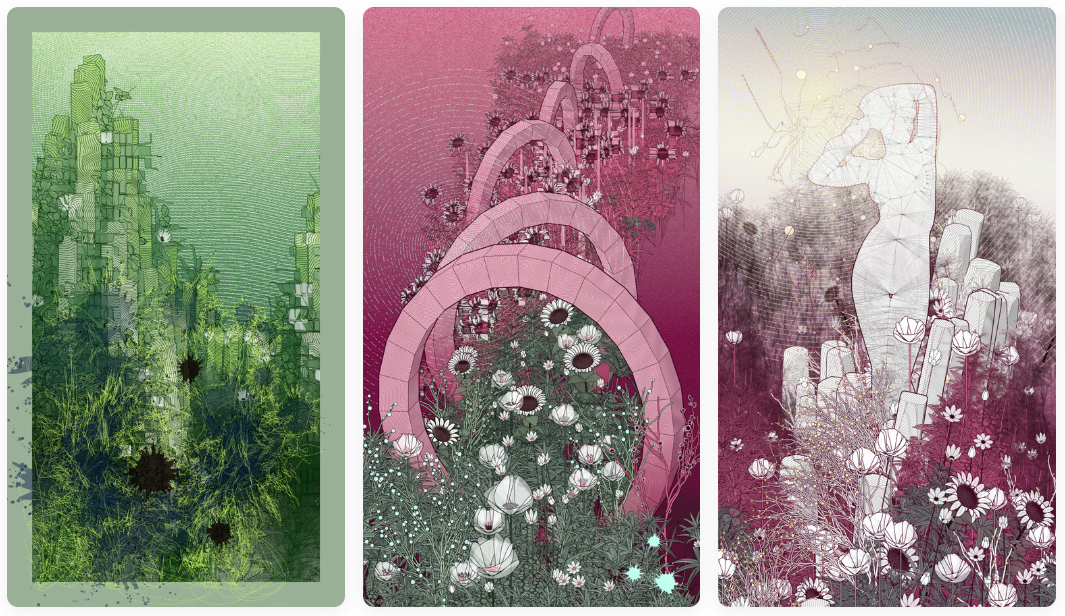 Just this week Sotheby's launched a new on-chain generative art program that is powered by Art Blocks Engine, perfectly highlighting the auction house's commitment to NFT art. Their first auction features art from Vera Molnar, the first female digital artist, and one of Dimitri Cherniak's known influences. 
We have entered a defining period for generative art, one where artists like Cherniak will be cited as influential to a whole new generation. Over the next decade, the life of Punk6529's 6529 Capital fund, artists will continue to iterate and push the genre forward, along the way creating new grails. Some of these works will also be considered historic, and in the future's rearview mirror, we'll look back to see the milestone pieces that blazed a path for them. No matter how far we get and how fast we get there, it's the face of a goose that we'll see looking back at us.
Buckle up.