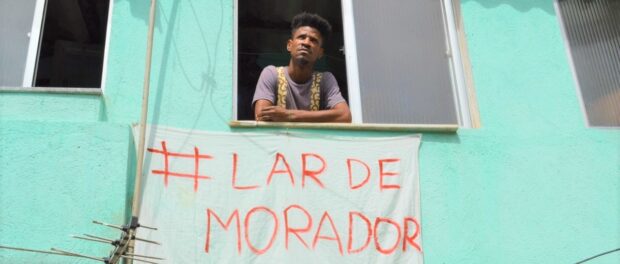 This is our latest article about Covid-19 and its impacts on the favelas. It is also part of a series created in partnership with the Nucleus for Critical Studies in Language, Education, and Society (NECLES), at the Federal Fluminense University (UFF), to produce articles to be used as teaching resources in public schools in the city of Niterói.
For over 20 days, residents of Complexo do Viradouro, made up of Largo da Garganta and the favelas of Africano, União, Papagaio, Viradouro, and Cruz, have lived with the routine of a police occupation. Launched on August 19, the occupation is being carried out despite the ADPF das Favelas, a Brazilian Supreme Court decision that bans police operations during the Covid-19 pandemic, except in "absolutely exceptional" cases.
Following the legal requirements, according to the State Secretariat of Military Police, the operation in Complexo do Viradouro was reported to the State Public Prosecutor's Office of Rio de Janeiro. However, there is no information so far as to whether the Office has any knowledge of the events as a police occupation, nor what justifies the "exceptionality" claimed by the Police.
What is publicly known, as reported by RioOnWatch, is that the police operation—which calls for the installation of armored police cabins to monitor the area at the end of public works projects—has brought residents fear and militarization, with police abuses and human rights violations affecting multiples favelas.
In this report, Alessandro Conceição, 37, a resident of Morro da Reunião, one of the favelas of Complexo do Viradouro, recounts the first days of the police occupation and the resistance movement organized by residents, predominantly black, of Complexo do Viradouro, home to over 6,000 people.
On Friday August 21, at about 7:30am, they sent me a message. I responded, worried. I am told about the worsening of abuse by the police. I requested help spreading news of the situation in Viradouro to the newspaper El País, emphasizing that even with the Supreme Court ban on police operations, one is now happening in our favela. The reporter said he would check with his editor and I'm still waiting. Niterói is one of the most racially segregated cities in the world. You only need to look it up.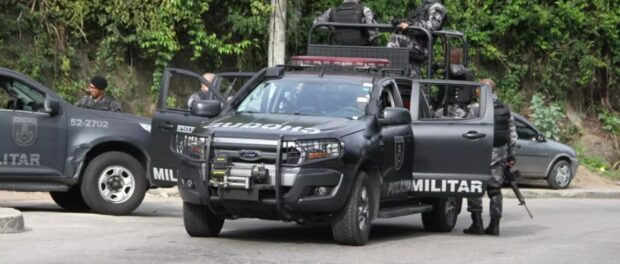 Afterwards, I went by the Center of the Theater of the Oppressed. Arriving at Viradouro Plaza, it looked like a war zone. Lots of cars and men from Rio's Shock Police (Batalhão de Choque). The vehicles and uniforms of the Shock Police are much darker than those of the ordinary Military Police (PM). I found out that in these cases, the ordinary PM can't intervene much, but need to stay in the rear guard, giving support. I noticed a strange fact: it seems that there is no dialogue between these police divisions, and the PM are a little subordinate to the Shock Police, with their hands tied. I remembered American films, when the FBI arrive and say to the local police: "You can go, the FBI is here now!"
The rain, the coercion, and the police intimidation meant that only about 20 people came down to the plaza. The majority are the black women who live at the top of the hills in the surrounding area. We stayed in the square being watched by the Shock Police. We were all scared that they would film us, and the topics discussed circled around reprisals and how the community is cowardly. I feared that this type of discussion would make us lose focus. For various legitimate reasons, we did not initiate a protest just then, but we spoke about strategies and the possibility of doing one on Saturday morning (August 22) with a roundtable discussion at a community breakfast. We put up signs made with pens and notebook pages asking for respect and for them [the Shock Police] not to trash our houses. A video of a resident who works at a local health center, and who who later found her house turned upside down, circulated on social…


Read More: Survival Between a Goal and a Police Occupation: A Favela Resident from