The controversy has polarised the forensic, medical and legal communities in the emotive context of babies who have died, amid fears that casting doubt on past convictions could re-traumatise families and potentially allow some abusers to escape detection.
'Incredibly dangerous'
Last year, Vinaccia became the first person to file an appeal challenging his shaken baby syndrome conviction.
In 2019 he was found guilty of child homicide over the death of his girlfriend's 3½-month-old son. Under questioning, Vinaccia told police he might have put the boy, Kaleb, down into his cot "pretty rough" and his treatment could have been "a bit bouncy and stuff". The appeal claims the confession was unreliable, the conviction unsupported by medical evidence, and that police and experts failed to consider that the injuries could be accounted for by Kaleb's pre-existing medical condition, which had led to him being hospitalised with swelling in his brain.
Rowe was found guilty of child homicide in 2018 over the death of his three-month-old daughter, Alanah. "Violent shaking with or without impact on a soft surface" was found to be the cause of death based on her internal injuries, with experts testifying there was no other "reasonable explanation". Rowe denied mistreating the child.
Harvey was convicted of recklessly causing serious injury to his seven-week-old son Casey in 2019. He claimed he did not shake or hit Casey, but said the baby bumped his head on the edge of a couch as Harvey sat down. The medical evidence held the child's internal injuries were equivalent to a 10-metre fall or high-velocity motor vehicle collision.
The Victorian Institute of Forensic Medicine is the independent agency whose expert testimony has been used by law enforcement authorities to launch a spate of recent prosecutions. Its deputy director, Professor Ranson, told The Age and the Herald that the science underpinning the shaken baby diagnosis was now more contested than it was a decade ago, raising questions about the reliability of prosecuting "triad-only" cases.
"That reliance on a single piece of evidence is always dangerous. Whether you like the triad issues or don't like the triad issues, it's not the be-all and the end-all. It behoves the entire legal system to say giving weight and relying solely on a single piece of evidence is incredibly dangerous," Professor Ranson said.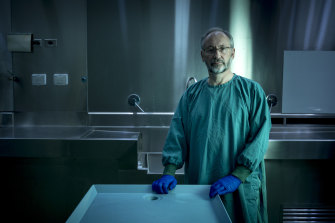 Dr Linda Iles, head of the institute's forensic pathology services department, is one of two key experts in Victoria who have been called by the prosecution to testify in numerous "baby shaking" trials. Her evidence has helped secure a number of convictions.
However, she told The Age and the Herald that triad-only cases were weak because the evidence is only "indirect". Despite this, the three symptoms together were the accepted medical and forensic basis for concluding that a baby had been abused and were being used increasingly to secure convictions.
"For a long time, fatal triad-only cases weren't taken to criminal prosecution. I don't know what has changed for that to start up again. But I'm only privy to the medical evidence in these cases," Dr Iles said.
While the validity of shaken baby syndrome has been contested in the medical, scientific and forensic communities internationally for decades, this is the first time the highly regarded Victorian forensic medicine institute has publicly called into question the way the diagnosis is being used in criminal cases in Victoria.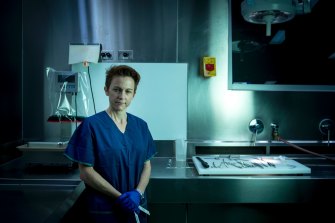 Another expert who has given evidence in criminal trials, Joanne Tully, the deputy director of the Victorian Forensic Paediatric Medical Service at the Royal Children's and Monash Children's hospitals, declined to be interviewed.
Dr Tully's evidence helped…


Read More: Top scientists question basis for Victoria's baby shaking prosecutions